Welcome To Alpine Outfitters- TIPITENT®
Reliable Tents For All Your Outdoor Camping Activities
Are you looking for a cone-shaped tent for camping in extreme conditions? If yes, Alpine Outfitters TIPITENT's are designed for the toughest hunting, fishing and camping needs. They are proven to stay in shape and perfectly accommodate horseback hunts, fly-in trips, ice fishing and much more. They are designed and manufactured with utmost precision using lightweight materials that tend to make them last for more than a decade.
With TIPITENT®, you can experience a hassle-free tenting with an ease of setup, huge floor volume, stand up height and ability to have an open cooking fire or wood stove inside. If you want to buy any of our tents in Canada or US, simply place an online order or call us we are located in Heffley Creek, BC, Canada.
Enjoy A Warm Stay & Dry Camping With TIPITENT! Order Today.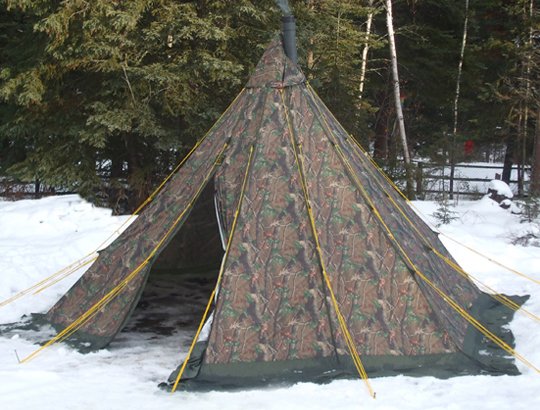 What Makes TIPITENT's Last Longer?
Durable
These tents are highly durable and made from high quality material that withstands even harsh weather conditions.
Lightweight
TIPITENT's are cone-shaped tents which are made from lightweight material and are easy to carry on the mountain treks.
Waterproof to 3000mm
Since camping is done in extreme places and conditions, TIPITENT's are completely splash-free and waterproof to 3000mm.
What Clients Say About Us!
I recently bought a Camo Hunter TIPITENT® from Alpine Outfitters Inc. I must say the tent was extremely well built with an air vent hose to regulate ventilation. Thank you for the amazing tent.
My TIPITENT® is almost 6 years old and is still tidy and looks new all because of the waterproof and durable material. I highly recommend tents from Alpine Outfitters.
Wow! It was hard for me to believe that cooking fire or wood stove can be used inside the tent but it was true. TIPITENTS are such a unique creation.
Camo Hunter TIPITENT ® Video
Mountain TIPITENT ® Canoe Trip
TIPITENT ® Motorcycle Camping